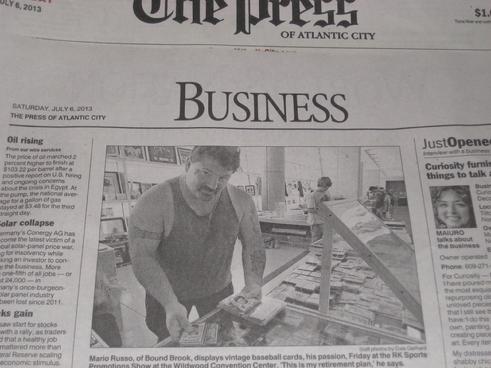 RC COLLECTIBLES FEATURED IN THE ATLANTIC CITY PRESS
1060 RT 22 W LEBANON, NJ 08833 (908) 840-4698
RC Collectibles has one of the largest collection of vintage sports & non sports cards anywhere! We carry all the latest trading card releases. In our collection you will also find Matchbox cars, coins, movie memorabilia, supplies, stamps, trains, autographs & more! We buy,sell & trade!
DAD'S SUPER BREAK SATURDAY JUNE 18TH 2022!
Hey Gang, Silent Auction ends today at 3PM! We will be at the store today from 12 until 6PM! Then off for the weekend and back to work on Tuesday getting ready for The Live auction Wednesday night. We will be having our next Pack Break "Dads Mega Break" Father's Day weekend Saturday June 18th at 7PM. For every box you have reserved by Wednesday June first you will have a ticket placed in a special drawing on Thursday June 2nd to win an extra box for the break so call and reserve your spots today! (908)840-4698
COMING TO CHILLER THEATER WITH RC COLLECTIBLES (ONE DAY ONLY 9AM-1PM SATURDAY APRIL30,2022) HEAVY WEIGHT BOXING LEGENDS LARRY HOLMES & JERRY COONEY!
THANK YOU TO OUR SPECIAL GUESTS GIANTS LEGENDS LAWRENCE TAYLOR, O.J.ANDERSON. BASEBALL GREAT BILLY SAMPLE, WRESTILING HALL OF FAMERS COWBOY BOB ORTON , JOHNNY RODZ & JSA AUTHENTICATION FOR MAKING OUR SUPER SUNDAY SHOW SUCH A GREAT SUCCESS! LAST BUT NEVER LEAST TO OUR GREAT CUSTOMER & VENDOR FAMILY! WE COULDN'T DO IT WITHOUT ALL OF YOU! GOD BLESS YOU ALL! WE HAD A BLAST!
SUPER SUNDAY FEBRUARY 2022
THANK YOU SANTA ,GIANTS LEGENDS LEONARD MARSHALL & JESSIE ARMSTED AND OF COURSE OUR GREAT CUSTOMERS FOR AN AWESOME CUSTOMER APPRECIATION DAY SATURDAY DECEMBER 18,2021 HAPPY NEW YEAR!
FACEBOOK LIVE AUCTION! CONTACT US TO REGISTER NOW! (908)840-4698
EVENTS CALANDER
LIVE AUCTION
AT RC COLLECTIBLES FIRST WEDNESDAY OF EVERY MONTH. VIEWING STARTS AT 6PM AUCTION 7PM SHARP.
(NEXT LIVE AUCTION FEBRUARY 2,2022)
FACE BOOK LIVE AUCTION
3RD WEDNESDAY OF EVERY MONTH. CONTACT US TO REGISTER. LIKE RC COLLECTIBLES ON FACE BOOK. LOOK FOR PREVIEW 1-2 DAYS PRIOR TO EVENT.
(NEXT FACE BOOK LIVE AUCTION JANUARY 19, 2022)
SILENT IN STORE AUCTION

RUNNING NOW!
RUNS EVERY 2 WEEKS ENDING ON FRIDAY AT 3PM.
(AUCTION RUNNING NOW ENDS JANUARY 21ST 2022 AT 3PM)
SUPER SUNDAY SPORTS CARDS & COLLECTIBLES SHOW

FEBRUARY 13,2022 FROM 9AM-3PM
SEE DETAILS ABOVE ON HOME PAGE
THE EASTON ASSASSIN LARRY HOLMES
RUDY RUETTIGER , EAGLES GREATS BILL BERGEY & FRANK LEMASTER COMING TO RC COLLECTIBLES WE BE RESCHEDULED AND ANNOUNCED SOON!
RC COLLECTIBLES CUSTOMER APPRECIATION DAY WILL BE RESCHEDULED!
| | |
| --- | --- |
| EAGLES LEGEND BILL BERGEY | EAGLES GREAT FRANK LAMASTER |
CHARLIE RICHARDS PULLS SHANE BIEBER VINTAGE ONYX 2021 GREEN SIGNATURE EXTENDED!BER
2 JASON DOMINGUEZ AUTOS PULLED BY PETE KOS IN 2 BOXES 2020 OPTIC!
LOUIS KOTYUK 2018 NATIONAL BASEBALL CARD DAY PULL RONALD ACUNA JR AUTOGRAPHED CARD
ANDREW BRUCE PULLS A JONATHAN DROVIN LIMITED SIGNATURE DUAL SWATCH CARD
MIKE MAGGIE 2017 HIGH TEK AARON JUDGE GREEN RAINBOW AUTO
CHRIS BRTIS AARON JUDGE AUTO ROOKIE & 1 OF 1 PRINTERS PLATE
2017 CHROME BASEBALL BLUE AARON JUDGE AUTOGRAPHED ROOKIE PULLED IN STORE BY DAN JOHNSON!
DALE & ROBBIE WITH THE BIG PULL!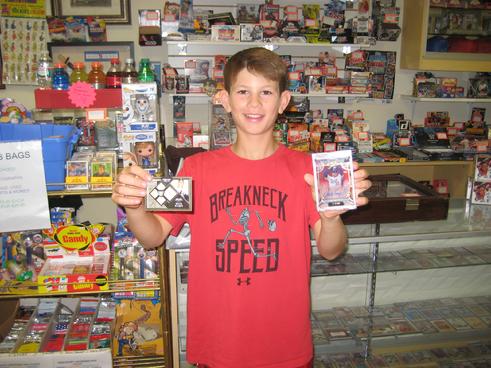 JACK MARTIN PULLS ROGER MARIS QUAD BAT RELIC 1/5 & SANDY KOUFAX AUTO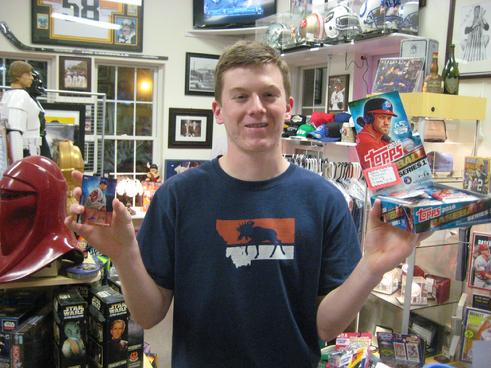 KEVIN JOHNSON PULLS METS STEVEN MATZ AUTOGRAPH OUT OF 1ST PACK OF 2016 TOPPS IN THE STORE!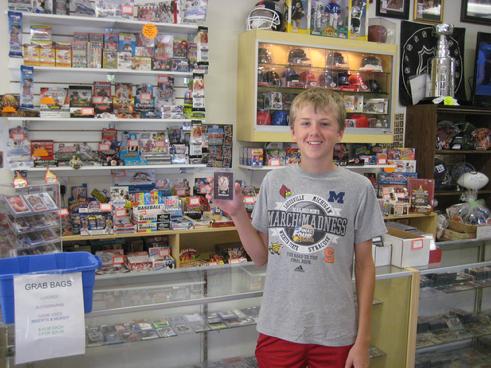 DAN JOHNSON 2015 DIAMOND KINGS HONUS WAGNER BAT RELIC NUMBERED TO 5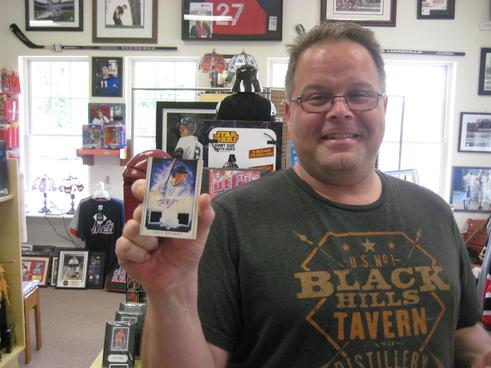 2015 DIAMOND KINGS KRIS BRYANT AUTOGRAPHED DUAL RELIC ROOKIE # TO 99 PULLED BY JEFF SNYDER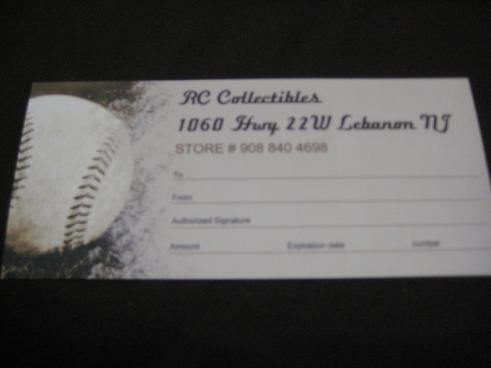 GIFT CERTIFICATES AVAILABLE
THE GRAND OPENING CELEBRATION CHUCK URBAN CUTTING THE RIBBON, RICK CERONE & ROY WHITE SIGNING AUTOGRAPHS & THE O'CONNORS TAKING HOME THE FLATSCREEN TV!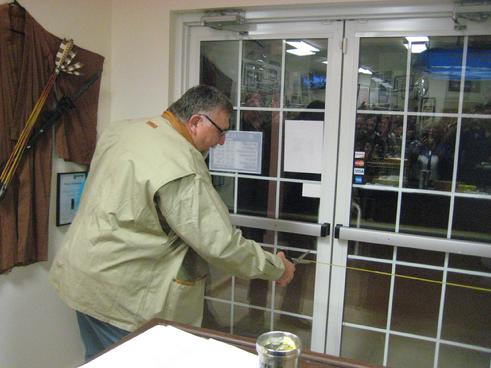 FRIEND & LANDLORD CHUCK URBAN CUTTING THE RIBBON!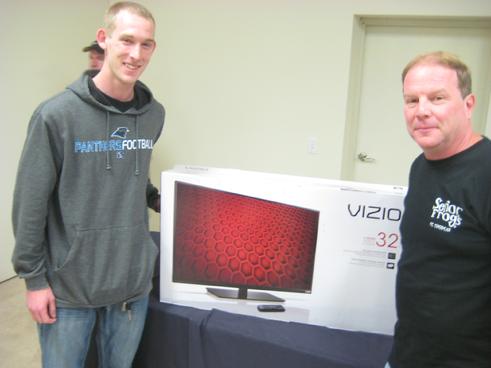 CONGRATULATIONS TO THE OCONNORS
RC COLLECTIBLES HAS A WIDE VARIETY OF QUALITY PRODUCTS TO CHOOSE FROM.
LET US KNOW WHAT YOU THINK. PLEASE SEND US YOUR COMMENTS BELOW.
FOR SHOW ORDERS, PRICING AND WHOLESALE DEALS PLEASE CONTACT US AT (908) 840-4698 OR AT RCCOLLECTIBLES@EMBARQMAIL.COM